MUMBAI: After enduring a rough journey at the beginning of his career, Yashasvi Jaiswal seems to be finally hitting the smooth road to success.
Being Yashasvi Jaiswal: The incredible journey of a phenomenally talented cricketer
With 428 runs in nine games, including a scintillating 124 off 62 balls against the Mumbai Indians at the Wankhede Stadium on Sunday night for the Rajasthan Royals, Jaiswal has lit up the IPL.
TOI caught up with Jaiswal, who took time out from his IPL schedule for an exclusive interview.
Excerpts…
Has it sunk in that you've played a blazing innings like that?
I totally believe that I played like that (laughs)…Yes, it was a really special innings for me because I was playing in Mumbai. I've a lot of emotions and hard work associated with that city. It's an incredible feeling, but I guess this is just a start for me.
Was this your best knock ever? Do you believe it will be the turning point of your career?
I don't know about that, but I really enjoyed it. I've hit a few more centuries this year. All my centuries are special for me, because I work hard for them. This was one of the best, I guess.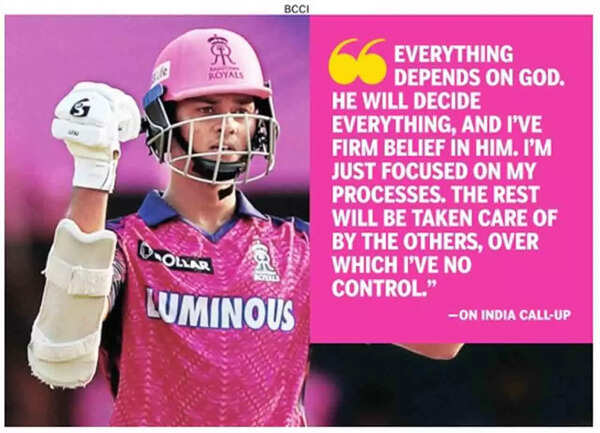 There were several sizzling shots during the course of your entertaining hundred. Which shot did you love hitting the most?
That pull shot (off Jofra Archer), and also the six that I hit off him in the 19th over, over mid-off. I really liked that shot. My thinking was clear while executing that shot.
Has your early struggle period toughened you up for the challenges of a high-pressure environment of the IPL too?
Of course. I think that confidence, fighting spirit, struggle in my everyday life at that point in time has helped me a lot. It has come from there only. It is because of that I just keep fighting and always think about winning. Nothing else. It has always given me that confidence, belief, trust that I can do things… that I can work hard, that I can keep pushing myself, as I've done it before and I will try to do it again and again and again.
How helpful has the environment been at the Rajasthan Royals in enabling you to succeed? After your cracking century, you credited Zubin Bharucha (director of High Performance at RR) for your much-improved show. Kumar Sangakkara (RR Team Director) said he's had conversations with you…
Yes, I think I've been able to improve my game a lot due to Zubin sir. We've worked together a lot for the last 3-4 years. I keep working with him, he knows me better than I do myself, I guess! And of course, I need to credit Sanga sir as well. Because we keep chatting about situations and wicket and what we can plan against different kinds of bowlers. And how I can go about doing the things. Everything is going really, really nicely. I'm really enjoying it (stint with RR). I really appreciate the role of all the coaches in my life, but I really want to thank Zubin sir. It's a pleasure to work with him.
MI captain Rohit Sharma was in awe of the power that you displayed during your breathtaking ton. How did you develop that ability?
This is about how I'm keeping myself strong. I trust myself. I believe in myself… in the sense that whatever will come my way, I'll do my best, and I'll keep believing in myself that I can do this.
Are you already twiddling your thumbs in anticipation of a maiden Indian call-up for the Caribbean tour a couple of months down the line?
Everything depends on God. He will decide everything, and I've firm belief in him. I'm just focused on my processes. The rest will be taken care of by the others, over which I've no control.