NEW DELHI: To say that Yashasvi Jaiswal's journey so far has been a fascinating one, would be an understatement.
His many struggles which he dealt with head-on and quintessential rags-to-riches story have been an inspiration for many. Yashasvi was 11 when he left his home in Suriya village in Uttar Pradesh and traveled to Mumbai. Before he met coach Jwala Singh, Yashasvi had to sell pani puri to earn money and lived in tents at Azad Maidan.
On Sunday night, at the jam-packed Wankhede Stadium, the 21-year-old, who is in ominous form, sent the Mumbai Indians bowlers on a leather hunt, smashing them all over the park, and ruining birthday boy captain Rohit Sharma's plans to restrict RR to a small total. Rohit kept changing bowlers, but an adamant Yashasvi had just one goal – see the ball, hit the ball.
Yashasvi in fact was the only RR batsman who really troubled the MI team. Playing at the Wankhede, a ground he has been playing at since his childhood days, Yashasvi smashed an incredible 124 off 62 balls. Incredibly, the highest individual score after his 124 was Jos Buttler's 18. RR reached 212/7, but couldn't stop MI from chasing down the 213 run target.
(AFP Photo)
But the one who really stole the show was Yashasvi. In fact, his idol Sachin Tendulkar, who was in the MI dugout, was seen clapping after Yashasvi notched up his maiden IPL century. He now has the highest individual score this season and is also the fourth youngest to score an IPL century.
Yashasvi's belligerent knock of 124 off 62 balls was studded with 16 fours and 8 maximums. He was named Man of the Match, despite the fact that MI won the game by 6 wickets.
"I spoke to him ahead of the match vs MI in the afternoon. He called and asked me – 'will you be coming to watch the match today?' I said yes. He said – 'I will make you feel proud, please come'. I agreed and went. He didn't make me proud, he made me super proud. What a knock. He scored a century at Wankhede and that too against a big team like the Mumbai Indians. I am really happy for him," Yashasvi's childhood coach Jwala Singh told TimesofIndia.com in an exclusive interview from Mumbai's Wankhede stadium.
1/12
Mumbai Indians win in 1000th IPL match
"When I came to Mumbai in 1995, I was mad about cricket. I wanted to become a cricketer. But injuries came in the way of my dreams, so I began coaching. I was in search of a guy who is mad about cricket. I found that madness in Yashasvi. I trusted his abilities. The best thing about Yashasvi is that he is honest with himself and the game as well. He is a keen learner. He follows the process. I was sure that he will become a big name in Indian cricket. I am sure he is on the right path," Jwala Singh further told TimesofIndia.com.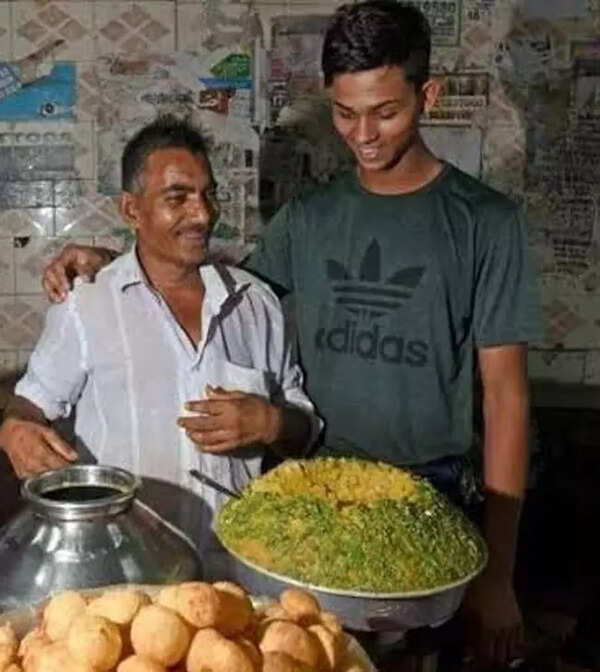 (TOI Photo)
PRACTICING WITH PLASTIC BALLS AT DOUBLE SPEED
Yashasvi made his IPL debut in 2020 and has been part of the Rajasthan Royals camp since then. This is his fourth IPL season. In 9 IPL matches so far this season, Yashasvi has scored 428 runs at an average of 47.56. He is currently the Orange Cap holder in the ongoing season.
Overall in his IPL career so far the 21-year-old has played 32 matches and scored 975 runs at an average of 30.47.
There is a sense of maturity in his batting in the ongoing season. He plays in the arc. He drives the ball with sheer confidence, cuts and pulls with authority. He also makes full use of his height (he is over 6 feet tall) to get to the pitch of the ball. It also allows him to make full use of the batting crease.
Yashasvi has also been a force in domestic cricket. He has so far played all three formats. He made his domestic debut in 2019 and already has 15 centuries and 16 half centuries under his belt. Yashasvi was also the highest run-getter in the 2020 ICC u-19 World Cup. He scored a brilliant 88 in the final as well, which India lost to Bangladesh.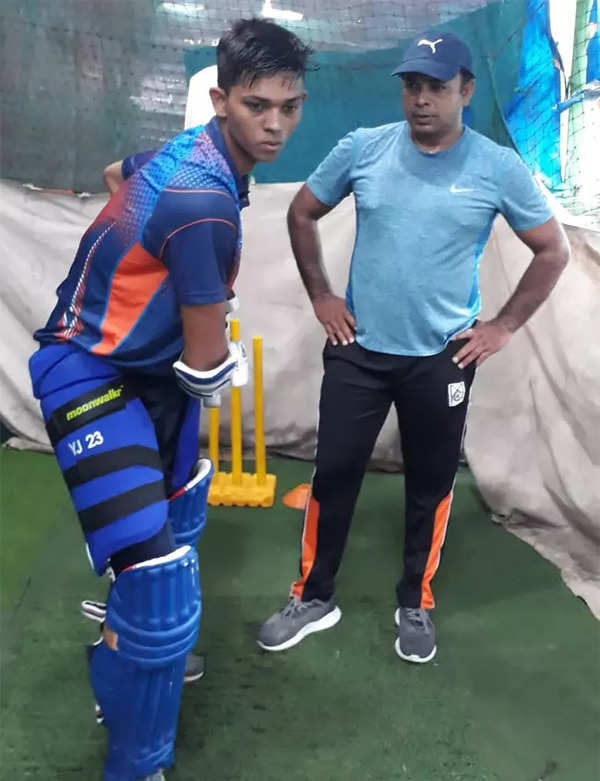 (TOI Photo)
In the IPL, the current one is the best season he has had so far.
Before moulding himself into the Yashasvi 2.0 version, the youngster spent hours every day hammering solid plastic balls on a cemented track. He was facing a barrage of bouncers and short balls from his coach Jwala who was hitting the deck at full throttle. The ball was traveling like a rocket, hitting Yashasvi on his chest and thighs and sometimes hands and shoulders. But his pain didn't hold him back. It was his grit and determination that drove him forward.
"I wanted to prepare him differently. I knew he had already played three IPL seasons and the shortest format of the game needs different skills to survive. I decided to call him to Gorakhpur. I asked him to pad up. The plan was to bowl at double pace with the plastic balls on a cement wicket. The ball used to travel like a rocket and also swing massively. We used two grounds – Railway Ground and St Andrews Ground – in Gorakhpur," Jwala told TimesofIndia.com.
"Initially, Yashasvi was scared and was hit several times on his body. He said 'sir, mera bat meri body se door na jaane lage, mera game kharaab ho jayega'. I told him – just focus on hitting the ball. I marked an 80m distance on the boundary and asked Yashasvi to hit as many sixes as he could. We used to practice for 4 to 5 hours every day. That plan actually worked and helped Yashasvi raise his game. We are now seeing his performance in IPL 2023. I told him – 'if you want to become number one, then you must target the number one bowler'," Jwala added.
"When he came back to Mumbai, in a Syed Mushtaq Ali selection match, he scored a 52-ball 100. Suryakumar Yadav was also playing in that match. After the match, he called me and said 'I am batting very differently. I am really enjoying it'. Bada player banna hai to bade bowlers ko dhona padega' (If you want to become a big player, then you have to take on big bowlers)," the coach further recounted.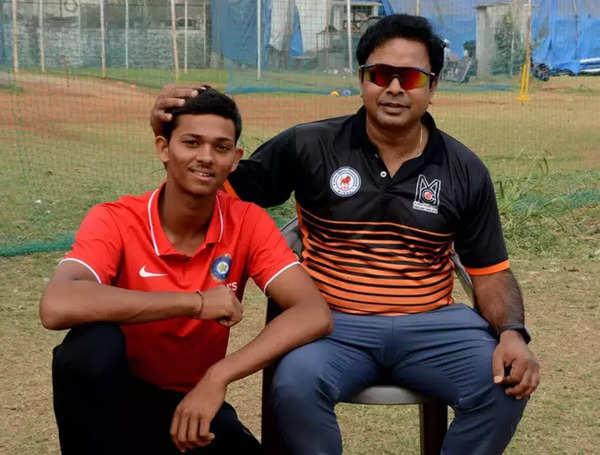 (TOI Photo)
'SENIOR INDIA CALL-UP NOT THAT FAR'
Coach Jwala believes his pupil has done enough to get a senior India call-up soon.
In the Under-19 World Cup in 2020 Yashasvi bagged the Man of the Series award for scoring 400 runs in 6 innings at an average of 133.33.
"The way he is playing, I am sure a senior India call-up is around the corner. Selectors are watching him. They must be keeping a close eye on Yashasvi. I am sure Yashasvi will wear a senior India jersey soon," a confident coach said.
"I usually don't see his matches at the ground. This was just the second instance when I came to see him live. On both occasions, he scored a century. I went to watch the Under-19 World Cup semi-final vs Pakistan. Yashasvi scored a century in that game. Now, I came to see this match (vs MI), he scored a century this time as well. The Rajasthan Royals management and support staff have played a big role in his career. Kumar Sangakkara and Zubin Barucha have played amazing roles in guiding him. Whenever he says he wants extra practice, they book separate grounds to allow him to practice more," Jwala signed off.